Task Audio 4-Channel 100' Snake XLR Neutrik Made in USA Baton Stage Theater Band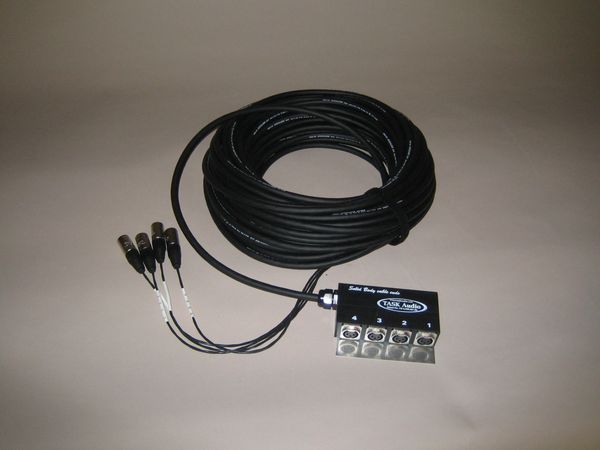 Task Audio 4-Channel 100' Snake XLR Neutrik Made in USA Baton Stage Theater Band
Introducing TASK AUDIO Connector Protector Standard 4-Channel 100' Snake Kit
Task Audio has developed a durable and versatile wiring management system. Now you can
protect your audio connections from damage without creating an eyesore on stage with our
rugged Solid Body Cable ends. The slim profile reduces risk of snagging and/or contact with
other equipment, curtains, and props while hanging on a baton** and has a small footprint
for on the stage use.
Each snake houses 4 clearly labeled "D" series 3 pin connectors. Each Task Audio Connector
Protector Standard 4-Channel Snake Kit includes the materials to secure the unit on the floor
with a tape plate or suspended on the baton** with a Velcro Strap and clamp
plate. It is possible for you to hang your snake for one set up and tape it down for the next step up.
By Simply removing six screws from the Velcro clamp plate and secure the supplied stainless steel
tape plate to the bottom of block as shown in figures 1and 2
Features:
Durable Solid Body Cable Ends made with UHMW material
Houses connectors to streamline your snake (prevents the "rat nest" effect
Plenty of surface to securely fasten unit to floors, stage sets, walls, or platforms
Neutrik Connectors
Made in the USA
Small floor footprint
Versatile design can be hung on a baton** or taped down for a floor mount
Stainless steel mounting plates
Light weight and water resistant design*
*The blocks will withstand wet conditions but connectors are not water tight.
**Refers to the pipe that lowers onto the stage.
web site taskaudio
Patent No. US 6,428,351 B1